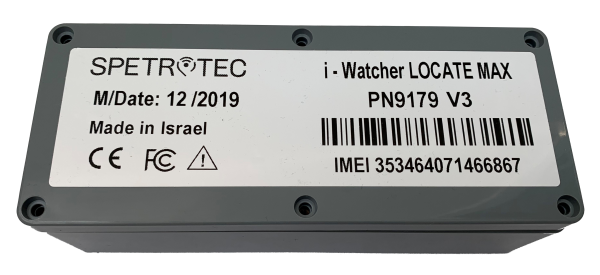 The iWatcher LOCATE MAX is an innovative IoT location solution, with exceptional
monitoring and location capabilities. The iWatcher LOCATE MAX is designed
specifically to monitor and locate vehicles that are not connected to a battery. It can also be used for containers, trailers and other unpowered units used to store valuable goods.
The majority of alarm and location systems are designed for use when connected to the battery of cars, trucks or motorbikes. But sometimes we need to monitor and locate a unit that isn't connected to a battery –for instance a trailer or mobile storage unit used to transport valuable goods and merchandise.
Track. Locate. Alert.
The iWatcher LOCATE MAX is an innovative solution that can locate unpowered storage units. It makes it possible for the owners of the goods to know where their property is at any given moment in time.
The iWatcher LOCATE MAX sends an alarm whenever it detects any change, actual or attempted, in the unit's location.
The iWatcher LOCATE MAX uses advanced algorithms to locate containers, waste bins, towed vehicles and other unpowered units. It can also be used as a backup system for monitoring vehicles and motorbikes.
The system communicates through cellular frequencies based on existing 2G, 3G, and 4G networks, as well as future 5G technologies.
The system's alerts are received via a specialized app or on a computer. Alerts can be delivered in real time and it is possible to send selected alerts at predened time slots. Every alert includes the time of its occurrence and the asset's location.
iWatcher Locate MAX – KEY BENEFITS

Operational life when in once-per-day connection mode – 5 years.

Operational life when in RING or SMS mode – 24 months.

4 D-type no rechargeable batteries, 13,000 mAh.

Low battery and opening case warning.

RING or SMS location alert sent within 60 seconds.

Real time alerts sent to application or control center.

Accurate location positioning when sending an alert.

Operational option – monitoring using motion sensors.

Suitable for extreme environmental conditions.

The unit can easily be transferred from one asset to another.

IP65 certified container.